UKareacode.co.uk – your go-to guide to UK dialling codes
7 May 2018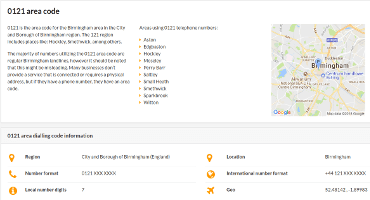 The United Kingdom may be considered birthplace of modern telephone industry. Its rich and fascinating history began in 1876 when a Scottish-born scientist and inventor, Alexander Graham Bell, spoke the first words on the telephone he invented to his assistant in a next door room: "Mr. Watson, come here, I want you."
This short phrase is now considered a turning point for modern telecommunication industry, as it started a global revolution that continues till this day. After The World War I telephone industry started to grow and expand rapidly which enabled thousands of people in the UK to experience the convenience of Bell's invention. With the development of infrastructure for telecommunication and landline services, a need arose to streamline the calling process initially overseen by primitive phone centres. In order to overcome their limitations, a nationwide system of area codes has been introduced. Its original function was to identify geographical region where the call is going to or where it originates from. Whereas area codes may no longer serve their original purpose, they are still an inseparable part of modern telecommunication industry in the United Kingdom.
Ongoing technological advancements ultimately led to the arrival of Motorola DynaTAC, the first mobile phone showcased in 1983. Back in the day, it took the device 10 hours to charge, which allowed for just 30 minutes of talk time. The Office of Communications, UK governmental regulatory and competition authority for broadcasting, telecommunication and postal industries of the United Kingdom, reported that in 2016 71% of mobile phone owners now use technologically advanced smartphones.
Nowadays, the total length of UK telephone number is 10 or 11 digits. National area codes are separated from the actual number by space or brackets. Area codes starting with 01 and 02 usually represent landlines; numbers beginning with 05 connect corporate and voice over IP numbers; 07 is the beginning of dialling codes indicating mobiles and 08 and 09 are used for special service numbers. There are multiple dialling codes, therefore it is crucial to have an all-encompassing repository of knowledge that contains in-depth information about all UK area codes. UKareacode.co.uk is a brand new online database that launched this year to service all your needs concerning dialling codes. On the platform you will find a full list of area codes covering England, Northern Ireland, Scotland and Wales. Each code has its dedicated subpage that contains all necessary information about local and international telephone number format, region covered by a certain area code, geographic coordinates and a handy Google-powered map. All information available through the platform has been collected from government websites and official registries, thus guaranteeing maximum accuracy. The website is very intuitive due to minimalist design and easily navigable layout. It features modern colour scheme for maximum end user experience. The use of the platform is completely free of charge, which means that from now on the Internet users worldwide can have unlimited access to a powerful database containing information about UK dialling codes. UKareacode.co.uk is available on all modern portable devices, so do not wait and bookmark the page on your phone or tablet today.