New Business Data About Canada Available at Canadabiz.net
30 November 2017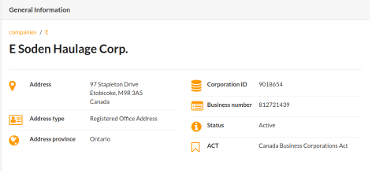 It's impossible to conduct a comprehensive market analysis without essential information about local businesses. Anyone from market analysts and researchers to local entrepreneurs or journalists need access to that type of information. But finding out more about Canadian businesses on the web is not as easy as it seems.
Even if the Internet is full of online business directories, it doesn't mean that users can easily find the information they're looking for. In fact, these registers often include outdated or rudimentary data that prevents users from getting the full picture of the local business scene or positioning individual businesses on local markets.
Canadabiz.net represents a brand-new type of online resource at the disposal of users looking for credible business data. On Canadabiz.net, they can easily access full company profiles that include essential business information relevant to any market analysis.
Users can analyze use information to investigate a particular city or region regarding its business activity or closely assess it in terms of the business performance.
Canadabiz.net is a comprehensive business directory that provides its users with plenty of actionable data. But most importantly, the platform has been optimized to address the needs of regular Internet users who simply want to learn more about businesses in Canada without having to spend hours navigating complex business directories.
Canadabiz.net provides its users with information about all types of companies ranging from small local businesses to large and mid-sized enterprises located or registered in Canada. All information is updated continuously and presented in a user-friendly way to allow easy searching and analysis.
Users can look for businesses by typing relevant keywords into the search engine or browse the featured company list for easy access to pertinent information.
What kind of data can users find on Canadabiz.net?
Every company has an individual profile that includes plenty of practical information. Users can check the full name of the company, its address together with the address type and province, corporation ID, business number, the company's status, and ACT.
It's enough to scroll down to see a detailed description of the company that emphasizes the essential facts users should know about the business. To help them find similar companies that are located nearby, the description features a short list of local companies for analyzing a particular location or industry.
The bottom of the page features a practical map to help users quickly locate the business in the city. Researching the business scene in Canada is more comfortable thanks to Canadabiz.net. Its user-friendly interface and search modalities help the database stand out from other online business directories and provide excellent service to its users.
By combining publicly available information into comprehensive company reports, Canadabiz.net helps users to quickly access the data they need without having to browse through thousands of database entries. Designed and developed with users in mind, Canadabiz.net is an exemplary online database that will lead the industry towards adopting different standards for presenting business information to Internet users.