Localpeek
25 July 2016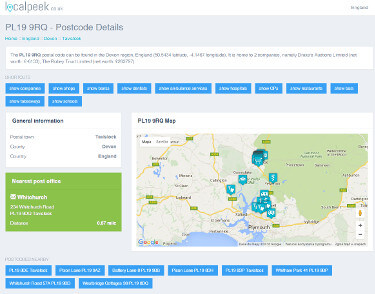 How well do you know your neighbourhood? It goes without saying that we all have our favourite restaurants, grocery stores, market places, and cinemas, often located within a few blocks from our homes. However, our neighbourhoods change rapidly – a number of new places open every year, from exciting restaurants, to conveniently located bank branches.
Explore your neighbourhood with localpeek.co.uk
It goes without saying that it is almost impossible to keep up with this trend, which results in a situation, when we are often unaware that a 24/7 pharmacy opened just round the corner, the best paediatrician in town set up his practice in our neighbourhood, or a restaurant serving our favourite cuisine moved to a building within a walking distance from our home.
Localpeek.co.uk is a brand new postcode finder. It puts together interesting places, local landmarks, restaurants, shops, bank branches, doctor practices and many more places which are all located in the same area. It also acts as a comprehensive database on real estate value, population, and school ratings.
The undeniable advantage Localpeek.co.uk has over other locators available online is the fact that it searches for the places you are looking for, such as restaurants, businesses, and schools by the post code provided by the user. That way, you can be sure no place in a particular area will be excluded from the search. Localpeek.co.uk aims to present you with all available options, so that you can make your decision much faster. And what's more, it will calculate the distance between your location and desired destination. Each page greets you with a map on which you are able to look up a particular kind of facility. Although Localpeek.co.uk is primarily post code oriented, it enables you to find the place you are looking for also by choosing the county, district, ward, parish, or town from a drop down list. It is, without a doubt, one of the most user-friendly platforms available online.
What would you do when an hour before your dinner party you found out that your sister has invited a vegetarian boyfriend? You have already prepared a real meat bonanza and neither have time nor the ingredients to make a veggie dish. Would you panic and manically drive to the nearest supermarket just to get a salad and some hummus? Stay calm, as with Localpeek.co.uk you can search your neighbourhood for a vegetarian restaurant, quickly order a dish, and save the situation.
The platform is also useful when you are travelling to a different city and you find yourself in an emergency. When you need to consult a doctor or urgently buy some meds at a pharmacy, just go to localpeek.co.uk, and choose 'medicine part' in the shortcuts section. In a matter of seconds, you will be presented with up-to-date contact details, together with a list of services a particular facility has to offer.
With Localpeek.co.uk locating the nearest bank branch, dentist's office, restaurant, or shop has never been so simple. Go ahead and give it a try.